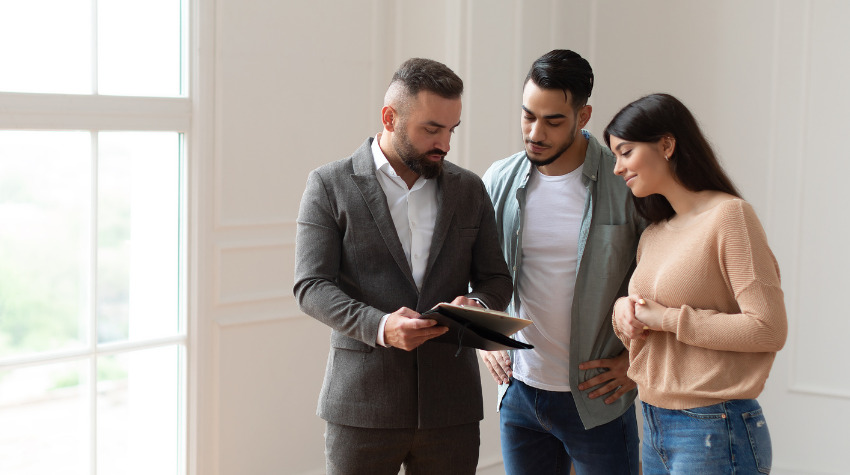 Buying your first home is an exciting and a significant milestone in your life. If you're considering purchasing a home, you're in for a unique and rewarding experience. Ontario offers a diverse range of housing options, from bustling city condos to peaceful suburban homes, making it an attractive destination for first-time homebuyers. However, the process of buying a home can be complex and overwhelming, especially if you're new to the real estate market. In this comprehensive guide, we will walk you through the complete process of buying your first home, from setting your budget to closing the deal.
STEP 1: Assess Your Finances
Before you start looking at properties, it's crucial to evaluate your financial health. Review your income, savings, debts, and credit score. Your credit score is particularly important because it will affect the mortgage terms a lender will offer you. It's also the right time to start saving for a down payment if you haven't already.
STEP 2: Establish Your Budget
Next, you'll want to establish a realistic budget. Before you start looking at homes, you need to determine how much you can afford. To do this, consider the following factors:
Down Payment: In Ontario, a minimum down payment is required, which varies based on the purchase price of the home. For homes priced up to $500,000, the minimum down payment is 5% of the purchase price. For homes priced between $500,000 and $1 million, you need to put down 5% on the first $500,000 and 10% on the remaining amount. Homes priced over $1 million require a 20% down payment.
Additional Costs: In addition to the down payment, you'll need to budget for closing costs, which can include legal fees, land transfer tax (unless you're a first time homebuyer), home inspection fees, and more. These costs can add up, so it's essential to factor them into your budget.
Monthly Expenses: Consider your current monthly expenses, such as rent, utilities, and insurance. Your new home may have different monthly costs, such as mortgage payments, property taxes, and maintenance. Ensure that you can comfortably manage these new expenses within your budget.
STEP 3: Obtain Mortgage Pre-Approval
Once you have a clear budget in mind, it's time to obtain mortgage pre-approval. This step involves working with an experienced Mortgage Broker, to determine how much you can borrow and at what interest rate. A mortgage pre-approval provides you with a clear understanding of your purchasing power and can help streamline the home-buying process. To get pre-approved for a mortgage:
Gather Financial Documentation: Be prepared to provide your financial information, including proof of income, employment history, and details about your assets and liabilities.
Complete an Application: Make sure the information you give is accurate and complete, this will ensure a smooth application process.
Choose a Mortgage Type: There are various mortgage types available, including fixed-rate mortgages, variable-rate mortgages, and hybrid mortgages. Consult with your Mortgage Broker to determine which type is best for your financial situation.
STEP 4: Start Your Home Search
With your budget and pre-approval in hand, it's time to begin your home search. Ontario offers a wide range of housing options, from single-family homes to condos and townhouses. Consider your lifestyle, preferences, and future needs when searching for the right property. Here are some tips for finding your ideal home:
Hire a Realtor: Working with a qualified real estate agent can make the home-buying process more manageable. Realtors have local knowledge, access to property listings, and negotiation skills that can be invaluable.
Create a Wish List: Make a list of must-have features and preferences for your future home, such as the number of bedrooms, location, proximity to schools or public transportation, and any specific amenities you desire.
Research the Neighborhood: Explore the neighborhoods you're interested in to ensure they meet your needs. Consider factors like safety, local amenities, schools, and commute times to work.
Attend Open Houses: Visit open houses and schedule private viewings to get a feel for different properties. Pay attention to the condition of the home, the neighborhood, and any potential issues.
STEP 5: Make an Offer
Once you've found the perfect home, it's time to make an offer. Your real estate agent will help you prepare a written offer that outlines the purchase price, any conditions, and the closing date. In Ontario, it's common to include conditions such as a home inspection and financing approval. The seller can either accept, reject, or counter your offer. Here are some key points to keep in mind during this process:
Negotiate Wisely: Be prepared to negotiate with the seller to reach a mutually agreeable price. Your real estate agent can provide guidance on the negotiation process.
Include Contingencies: Including contingencies in your offer, such as a financing condition, can protect you in case unexpected issues arise.
Deposit: When your offer is accepted, you will need to provide a deposit, typically held in trust by the seller's brokerage. This shows your commitment to the purchase.
Home Inspection: Consider arranging a professional home inspection to identify any potential issues with the property. You can use the inspection report to negotiate repairs or a reduction in the purchase price if needed.
STEP 6: Secure Financing
With an accepted offer in hand, it's time to finalize your financing. This involves working closely with your Mortgage Broker to complete the application process. Be prepared to provide updated financial documents, and ensure that all conditions in your offer, such as financing approval, are met. Your Mortgage Broker will then arrange for a property appraisal to determine the home's value.
STEP 7: The Legal Process
The legal process of buying a home involves several important steps:
Hire a Real Estate Lawyer: You'll need to hire a real estate lawyer to handle the legal aspects of your home purchase. They will review the purchase agreement, conduct a title search, and ensure that the property has no outstanding liens or issues.
Land Transfer Tax: In Ontario, you'll need to pay a land transfer tax when you buy a property. The amount depends on the purchase price and other factors. First-time homebuyers may be eligible for a rebate.
Closing Costs: Your lawyer will provide you with a statement of adjustments that outlines the closing costs you need to cover. These costs may include property taxes, utility bills, and legal fees.
Property Insurance: You will need to arrange for property insurance to be in place at the time of closing.
STEP 8: Finalize the Deal
As the closing date approaches, you and your lawyer will work together to ensure all necessary paperwork is in order. This includes signing the final documents, transferring funds to cover the purchase price, and closing costs, and conducting a final walkthrough of the property to ensure it's in the agreed-upon condition.
STEP 9: Closing Day
Closing day is the culmination of the home-buying process. On this day:
The seller's lawyer transfers the property's title to your name, and your lender provides the funds for the purchase.
You'll receive the keys to your new home, and the property officially becomes yours.
Your lawyer will register the transfer of the property and pay any outstanding fees, including land transfer tax, if applicable.
Your lender will set up your mortgage payments as per your agreement.
STEP 10: Move In & Settle In
Congratulations, you're now a homeowner! After closing day, it's time to move into your new home and settle in. Here are some essential steps to consider:
Utilities: Ensure that you transfer or set up utilities such as electricity, water, gas, and internet in your name.
Change of Address: Update your address with important institutions such as your bank, employer, and any government agencies.
Home Maintenance: Begin regular maintenance tasks to keep your home in good condition.
Enjoy Your New Home: Take the time to explore your neighborhood and make your new house feel like home.
Buying your first home is an exciting and rewarding journey. By following the steps outlined in this comprehensive guide, you can navigate the process with confidence. Remember to establish a realistic budget, obtain mortgage pre-approval, work with a real estate agent, and conduct thorough research to find the right property for you. With careful planning and the support of professionals, you'll soon be enjoying the benefits of homeownership in this beautiful province.